iTop VPN Review
Dashboard

Speed

Security

Price

Support
iTop VPN Summary
iTop VPN is a free VPN service provider that encrypts your internet connection so your internet activities don't get traced by ISPs or the government.
Pros
Free for lifetime
Dedicated IPs
Kill Switch
Split tunneling
Smart server selection + manual
Applicable for gaming, streaming, social,etc.
Cons
Only credit cards are accepted, no PayPal option.
Free VPNs are mostly clickbait and need to be more secure. But not all free VPNs are the same.
Hi! I am Abizer Izzy, and in this post, I am presenting my iTop VPN review. The reason for this review post is to show that iTop VPN is a secure VPN service provider.
I will not only talk about iTop VPN features & pricing but will show you real-speed test results. Look out for iTop VPNs special Black Friday deal.
Table of Contents
| | |
| --- | --- |
| 📅 Founded In: | 2016 |
| ⭐ Owned by: | Orange View Limited |
| 🗺️ Worldwide Users: | 20 Million + |
| 🌐 Servers: | 1800+ |
| 📍 Locations: | 100+ |
| 🏢 Headquarters: | Hongkong, China |
| 💰 Refund: | 30-day money-back guarantee |
| 💳 Payment: | Credit Cards |
| 📧 Email: | tickets@iTop VPN.com |
iTop VPN is a free VPN software that protects your online browsing activity. You can download the software for free for any device including Windows, Mac, and iOS.
The free VPN by iTop helps you hide your online activities from ISPs and the government. Trackers won't be able to track your browsing activity as all your VPN sessions are secure.
Free VPNs mostly lack speed but iTop ensures your content is accessible at blazing speed.
In this post, we will only talk about iTop VPN, but let me tell you about other products offered by iTop. This includes:
Screen Recorder,
PDF,
Data Recovery,
DualSafe Password Manager,
Private Browser,
Easy Desktop
Let me show you the steps to sign up for a free iTop VPN account. I will show you the speed test results.
How To sign up and Connect to iTop VPN?
Step 1: Visit iTop VPN's official website. Using my special link, you will get a 30% OFF discount which is extra apart from an 80% discount. You will get redirected to the discount page as shown here.
Step 2: On this page, enter the promo code affreborn30 and apply it. You will see 30% OFF your total price. Click on Buy Now.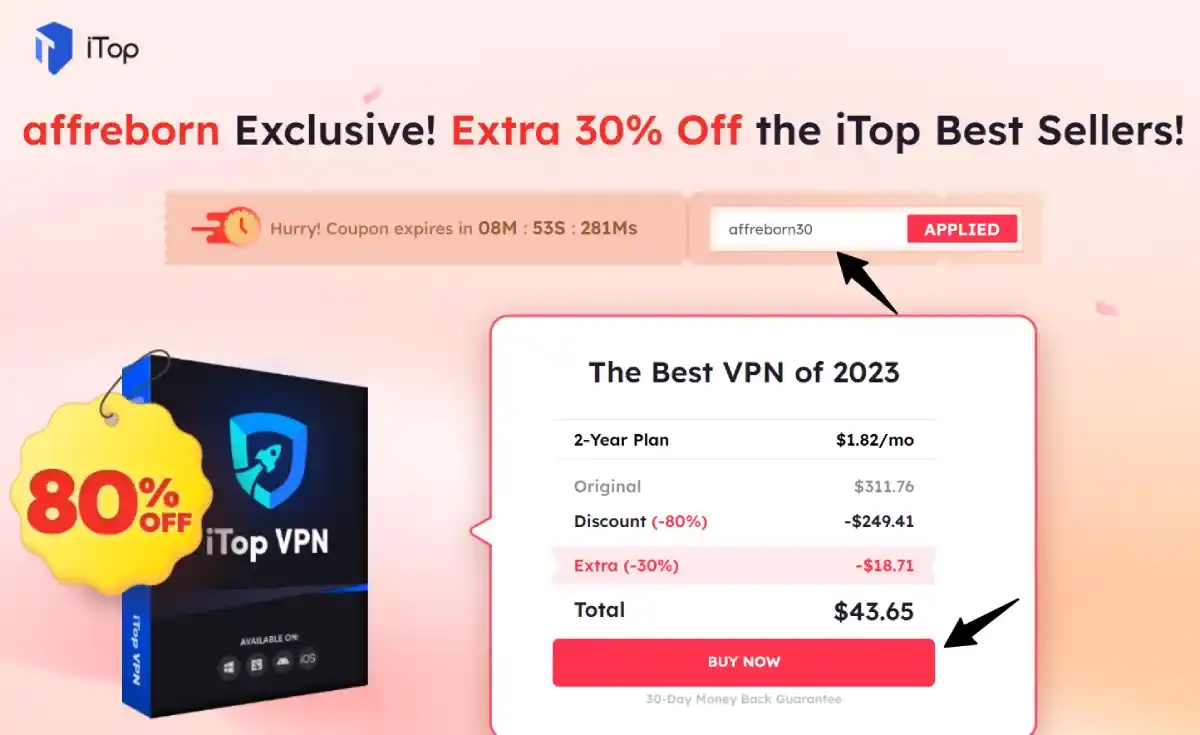 Step 3: Enter your card details, name, and email address. Click on Continue and complete the payment. You can now download the software and install it on your system.
Note: This coupon offer is valid only for a two-year plan. So, you get a 2-year iTop VPN plan at just $43.
Connecting to the internet via iTop VPN
Step 1: Open the app, and click on Connect. My original IP is 203.194.107.108 and after connecting to a VPN server, it gets changed to 111.90.143.73 which is an Asian server location.
This was one method of connecting via VPN wherein I chose the Smart Location option. This option automatically selects the fastest server location.
Step 2: If you want to change the server location, simply click on Change. You can choose a Dedicated IP which will be at an extra cost. Simply click on Switch to get a VIP IP.
Step 3: Click on the Power button to disconnect the server. You can manually select a server. Go to All Servers and choose a server of your choice. iTop offers special servers for downloading, gaming, streaming, and social. So, there's no brainstorming needed. If you need a VPN for gaming, simply go to the Gaming option and choose a server location.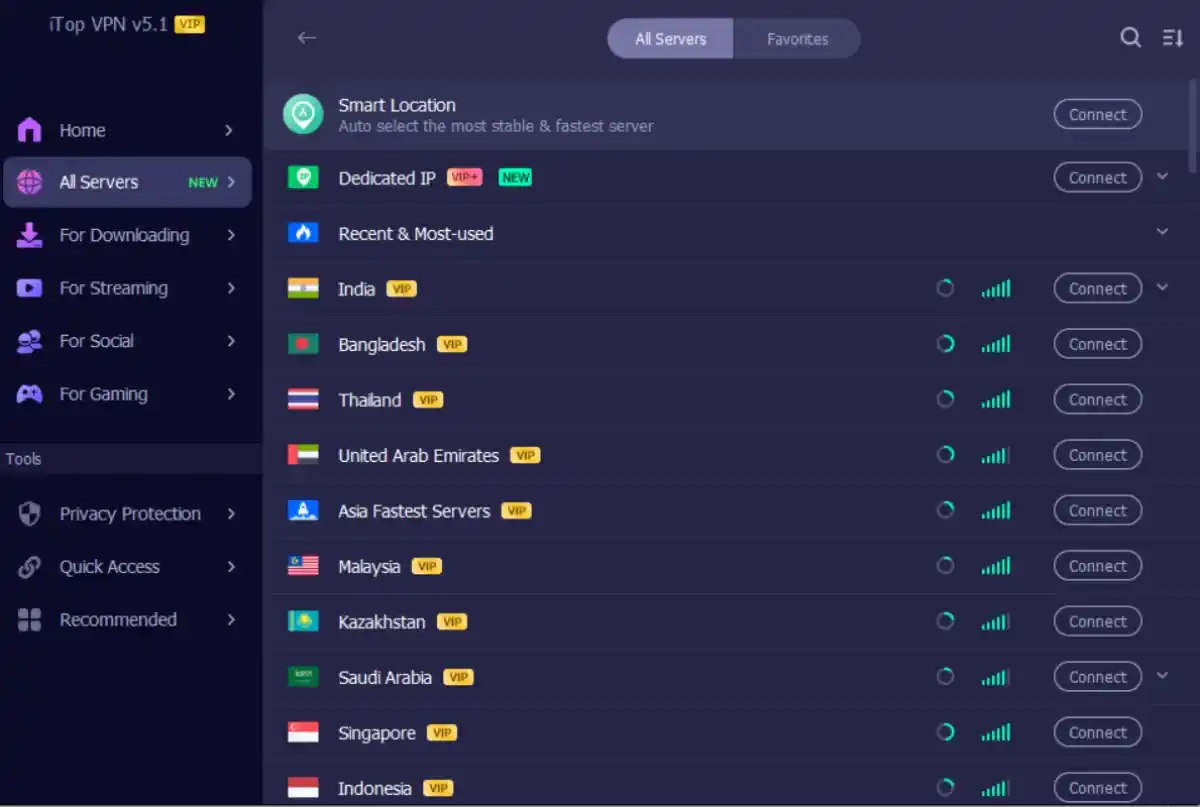 Speed Test Results
Let me show you real-time speed test results for the Asia server that we connected.
Let me manually change the server location to a US server and test its speed.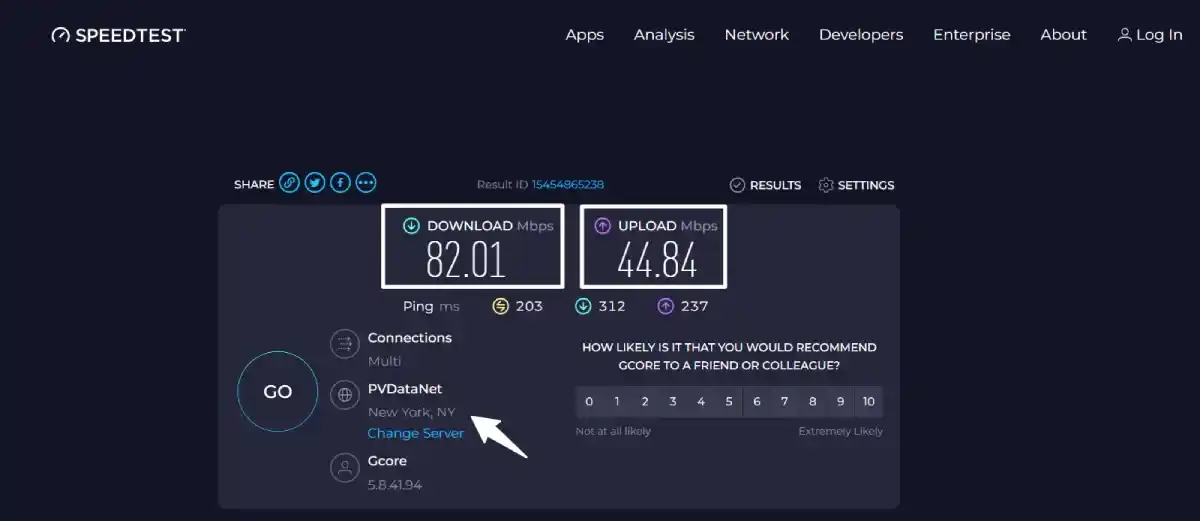 The servers that we connected were VIP servers. Let us connect to a free server and then its speed.
For this, I am choosing a free Australian server with IP 172.105.255.209. Let us connect to this server and check how it performs.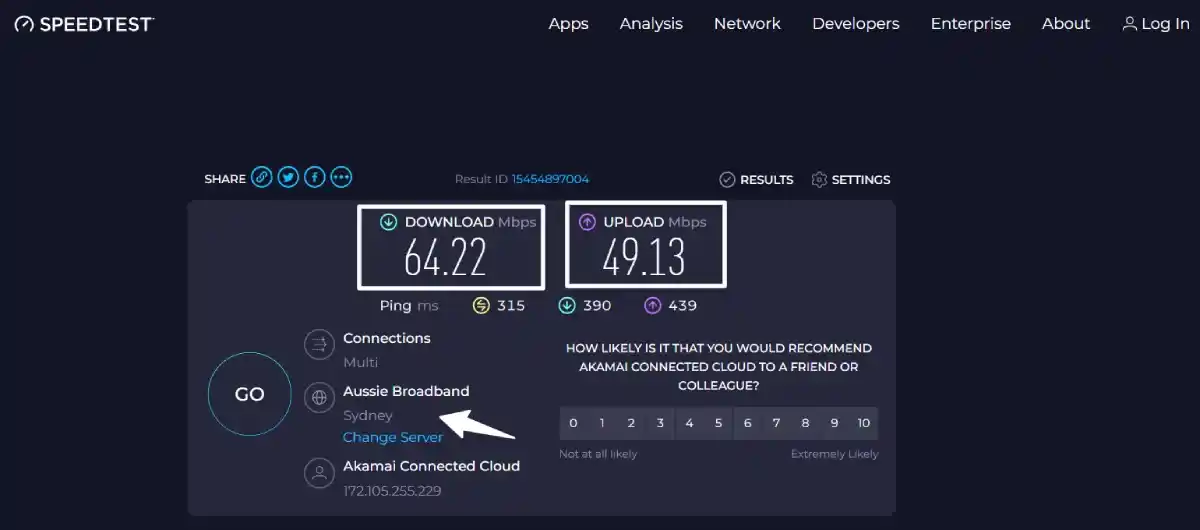 iTop is offering up to 81% OFF + a limited Free Gift on all of its products including VPN services in the ongoing Black Friday Sale. Don't miss this limited-time offer!
iTop VPN Features:
Global Servers:
iTop has more than 1800 reliable and high-performance servers in over 100+ locations worldwide. With one click, you can connect to any server in any location.
Unlimited Bandwidth:
With unlimited bandwidth, there's no one stopping you from accessing any content online. iTop VPN mitigates ISP throttling that causes slowdowns by connecting to the fastest servers.
No Ads Policy:
Unlike other free VPNs, iTop ensures smooth and ad-free browsing with no suspicious ads, pop-ups, or traces.
Kill Switch:
What if your internet connection breaks down while using a VPN? This is where Kill Switch protects your data leakage by resisting internet traffic.
No-Log Policy:
Your smartwatch counts your footsteps but not iTop VPN. It ensures that your online activities are kept private and not recorded or tracked in any way.
DNS Protection:
You no longer have to worry about DNS leaks or malfunctioning by hackers. iTop ensures your DNS settings remain unchanged.
IPv6 Servers:
iTop gives high priority to IPv6 connections. It allows your Windows devices to be able to connect to IPv6 protocols with more enhanced security.
Browser Anti-Tracking:
Browser tracing is a major concern but iTop ensures automatic clean-up. iTop supports all major browsers including Chrome, Firefox, Edge, Safari, IE, and Waterfox.
Round The Clock Support:
Whether your issue is small or critical, the tech support team is available 24/7 to help resolve your issues.
Protocols:
iTop supports three different protocols including TCP, UDP, and HTTPS. Users can choose any protocol as per their requirements.
Split Tunneling:
This feature helps you route some of your app traffic via VPN and others using a local internet connection. Using split tunneling, you can stream or download without any downtime.
Automatic IP Selection:
You can either let iTop choose the best server location or manually choose the closest server. You can choose dynamic or static IPs and configure them for the best results.
Instant Launch:
Once installed on your system, iTop VPN launches automatically on system startup.
What Makes iTop VPN A Preferred Choice?
Works on every device including Windows, Mac, and iOS.
Best fit for streaming, downloading, gaming, and more.
Exclusive IP that is only allocated to you.
Connection is routed via an encrypted tunnel that accelerates your speed.
Access geo content by choosing the closest server offering the highest speed.
Conclusion: My Verdict on iTop VPN review
In my iTop VPN review, I tested iTop VPN free and VIP servers just to show how both servers perform. I am quite satisfied looking at the connection speed which is fair enough even for free servers.
You can also join the iTop VPN affiliate program to make money by promoting it to others. It is one of the high-paying affiliate programs in the VPN affiliate programs niche.
I hope my iTop VPN review was helpful & informative. Don't forget to grab the 30% OFF deal above 80% OFF.
Till then…
Be Healthy, Be Wise, and Keep Sharing!
Take Care Reborns
🌟 FAQs iTop VPN Review
Is iTop VPN free?
Yes, it is completely free to use with high-speed servers.
Should I trust free VPN servers?
Not all free VPNs are safe. Since I have tested iTop VPN free servers along with its speed, I can say it is trustworthy.
Is Dedicated IP free?
No, you have to pay extra for a dedicated IP.
How can I pay for VIP and Dedicated IPs?
I have shown the steps to purchase iTop VPN. Right now the platform accepts only credit cards.