There are a plethora of affiliate programs offering Revenue Share, CPA, and recurring commissions. In this post, you will find out about high-paying affiliate programs.
Affiliate marketing does not require any technical knowledge. Anyone can start their career as an affiliate by joining high-paying affiliate programs.
Some affiliate programs don't even require a website. For such affiliate programs, you can use social media platforms for promotion.
One of the social media affiliate programs is Amazon Associate. You can use SiteStripe to copy the page link or directly share the page link on social networking platforms.
Not requiring any technical knowledge is the main perk of high-paying affiliate niches.
Becoming an affiliate is easy, but making money with high-paying affiliate programs for beginners requires research. You should thoroughly learn and test the product you want to promote. This is important as the product should be relevant to your audience.
Table of Contents
High-Paying SEO Affiliate Program
Semrush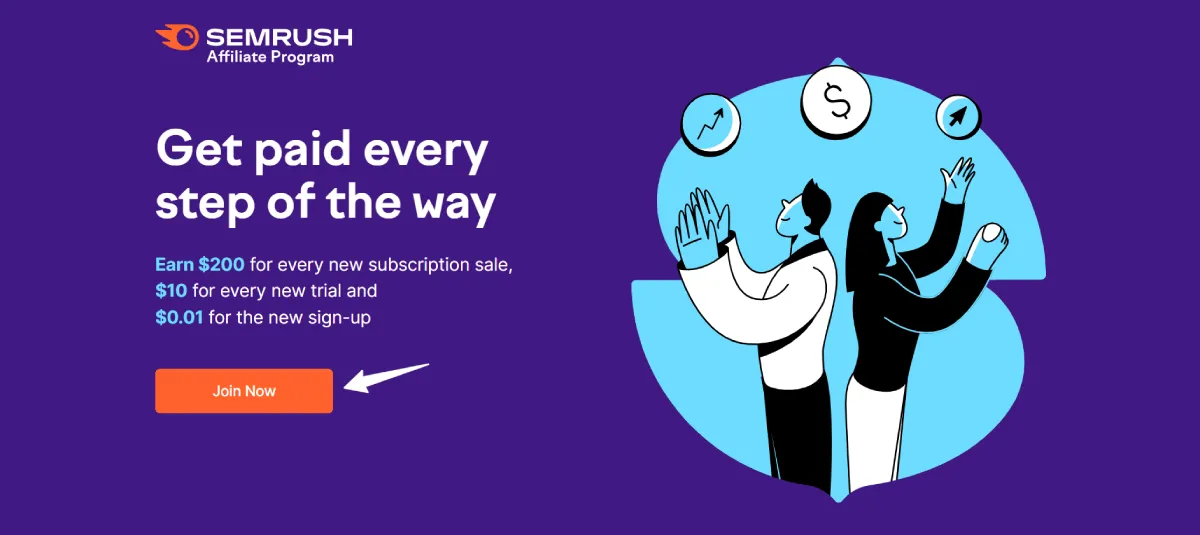 Impact Radius now manages the Semrush affiliate program. You can benefit from its last-click attribution model.
For every lead generation, Semrush pays $10, and for every new signup $0.01 commission.
Experienced account managers help you at every stage of your Semrush affiliate journey. Semrush is regarded as a top high-paying affiliate program in the SEO niche.
🤑 Commission Rate: Up to $200
⏳ Cookie Duration: 120 Days
High-Paying Design Tools Affiliate Programs
Clip Studio Paint
Clip Studio Paint is a fantastic go-to app for drawing and painting for artists. The free trial is available for download on Windows, macOS, iPad, iPhone, Galaxy, Android, and Chromebook.
Whether you are a blogger, Youtuber, art teacher, or tech website, you can make money with the Clip Studio Paint affiliate program.
You can join the CJ Affiliate network and get approved for promoting Clip Studio Paint. CJ is known as an excellent high-paying affiliate program network.
🤑 Commission Rate: 25% to 50% Per Sale
⏳ Cookie Duration: 45 Days
High-Paying Cloud Storage Affiliate Programs
Carbonite
Protecting your device from any mishap is important. The best way to protect your laptop data is by taking a cloud backup.
Carbonite offers cloud backup solutions for homes and businesses. When you refer Carbonite products to your site visitors, you receive a commission on every sale.
There are numerous benefits of the Carbonite partner program. Some of them are exciting deals, flexible pricing plans, promo materials and documents, and more.
Carbonite is the best pCloud alternative and competitor. It is also the best high-paying affiliate program in the cloud storage niche.
🤑 Commission Rate: 25% – 35% Per Sale
⏳ Cookie Duration: 90 Days
High-Paying Website Builder Affiliate Programs
Webnode
With bundled website builder tools, it is difficult to choose the right one. Webnode is one of the best Wix alternatives for creating websites with ease.
By becoming a Webnode affiliate, you can share about Webnode features and how users benefit from them.
One of the best benefits of Webnode affiliate programs is the cookie duration lifecycle. The referred users are yours for a lifetime. So, if a user comes back after a year to buy a premium plan, you still get paid.
You can use DirectLink instead of special affiliate links to refer new users. You can add a domain to the DirectLink and upon approval, the link will be tracked for referred users.
🤑 Commission Rate: $100 Per Sale
⏳ Cookie Duration: Unlimited
High-Paying Password Manager Affiliate Programs
PassFab
Remembering passwords is crucial. Many keep it safe on laptops or mobile phones. Again this isn't safe as it can get deleted mistakenly. The best solution is to use the PassFab password recovery tool.
Could there be password manager high-paying affiliate programs?
Yes, the PassFab affiliate program offers a flexible commission rate depending on the number of sales you bring. The commission rate increases if you bring sales of more than $10,000.
You can join the PassFab password manager affiliate program at Impact, CJ Affiliate, Awin, and LinkConnector.
🤑 Commission Rate: 50% to 65% Per Sale
⏳ Cookie Duration: 45 Days
TRX Training
Functional training and TRX are on the rise, and so allow you to make some cash with them. With the TRX training affiliate program, fitness trainers and health bloggers can make money.
When users buy suspension trainers, subscriptions, or other products on the TRX site using your affiliate link, you get paid.
🤑 Commission Rate: 10% Per Sale
⏳ Cookie Duration: 30 Days
High-Paying Cloud Hosting Affiliate Programs
OVH Cloud
OVH Cloud partner program empowers users to manage their cloud services. The company has worldwide datacenter locations with security and maintenance updates.
Whether your customers need a Bare metal cloud, hosted private cloud, or public cloud, OVH has it all.
If you are into the hosting business, then partnering with OVH Cloud could be game-changing for you.
🤑 Commission Rate: $3.00 – $137.00 Per Sale
⏳ Cookie Duration: 45 Days
WhaleCash
WhaleCash has some of the best-converting offers in the dating vertical. You can make a lot of cash with display, social, email, pop, and search traffic.
You can find hot offers that are GEO-accepted. You get paid no matter if your site traffic isn't converting for CPA networks.
When you refer other affiliates to WhaleCash, you get a 3% referral commission on their earnings for a lifetime.
🤑 Commission Rate: Up to $100 Pay Per Free Signup, and Up to $6.50 Pay Per Lead (SOI).
⏳ Cookie Duration: 30 Days
High-Paying Antivirus Affiliate Programs
AVG Technologies
Security is essential and AVG Technologies doesn't leave it behind. The company provides high-quality security software to protect your devices.
By joining the AVG Technologies affiliate program, you earn commissions on all product sales. Commissions are paid within 75 days of sale once the sale is confirmed.
Affiliates get access to promotional materials like banners, text links, and product catalogs. Affiliates who perform well receive bonuses, rewards, and incentives for their top performance.
🤑 Commission Rate: 15% – 35% Per Sale
⏳ Cookie Duration: 60 Days
Liquid Web
Regarding Dedicated servers, Cloud servers & VPS, all under one roof, LiquidWeb is the solution. 
Liquid Web offers two programs. One is an affiliate program and another is a refer-a-friend program for existing Liquid Web customers.
In the Liquid Web affiliate program, you earn a commission for bringing new users to Liquid Web via your affiliate link. The commissions paid in the affiliate program are higher than in refer-a-friend programs.
In the refer-a-friend program, you get hosting credits for referring your friend to Liquid Web hosting. The hosting credit gets added to your hosting account.
You can join the Liquid Web hosting affiliate program via Impact Radius.
🤑 Commission Rate: $150 per sale or $100 hosting credit
⏳ Cookie Duration: 90 Days
High-Paying Affiliate Programs For Landing Page
Leadpages
Online businesses struggle to generate leads and sales. You can help them build pages that generate quality leads by using Leadpages.
The Leadpages affiliate program offers recurring affiliate commissions on new purchases, renewals, and upgrades. Renewal commissions are paid till the time the referral remains a Leadpages customer.
The minimum lifetime commission offered for every new signup is 10% (Bronze Tier). As you grow your sales, your commission increases.
🤑 Commission Rate: 10% – 30% Recurring30% – 50% Per Sale
⏳ Cookie Duration: 30 Days
High-Paying Affiliate Programs For Dropshipping
AliDropship
Dropshipping is one money-making machine that generates passive income. To manage dropshipping, users need tools that help them scale their business.
By joining and promoting AliDropship, you can help customers get the right dropshipping solution. AliDropship affiliate program is one of the highest-paying affiliate programs in the dropshipping niche.
The AliDropship plugin is the best WordPress plugin to promote dropshippers.
🤑 Commission Rate: 30% – 50% Per Sale
⏳ Cookie Duration: 30 Days
WazirX
WazirX is the #1 crypto exchange platform in India. It has a huge fan base. I especially recommend WazirX for its simple UI and P2P exchange.
The WazirX referral program helps you earn a 50% commission for referring others. You get 50% of your friend's trading fee in WRX coins.
Sign up for the WazirX referral program, get your unique referral link with a unique code, and promote it.
🤑 Commission Rate: 50% trading fee
⏳ Cookie Duration: Not specified
Fiverr
Fiverr is the top marketplace for freelance services around the world. Services at Fiverr start with as low as $5 going up to $1000. There are over 5.5M users who are growing their business with Fiverr.
Fiverr is trusted by big brands and is loved by its users. Joining Fiverr affiliates could be a game-changer for you if you want to make some serious money.
🤑 Commission Rate: Up to $1,000
⏳ Cookie Duration: No referral limit, lifetime attribution
CyberGhost
One of the highest commissions in the VPN industry is paid by CyberGhost. You can build a long-term partnership with CyberGhost with faster payouts and dedicated manager support.
The CyberGhost affiliate program can be promoted by joining HasOffers which provides an intuitive interface.
🤑 Commission Rate: 100% Per Sale
⏳ Cookie Duration: 45 Days
High-Paying Email Marketing Affiliate Programs
Omnisend
One of the best recurring email marketing affiliate programs is Omnisend. The Omnisend affiliate program offers monthly recurring commissions on all new sign-ups for paid plans.
A dedicated account manager is on your side to help you boost your revenue with round-the-clock support.
Ready-made content including banners, ads, and other materials is available to get you up and going instantly.
🤑 Commission Rate: 20% Recurring
⏳ Cookie Duration: 90 Days
High-Paying Travel Affiliate Programs
Skyscanner
Flexible commissions on hotel and flight booking are what make Skyscanner top the charts. Skyscanner is a network of over 1200+ travel providers, including flights, cars, and hotels.
Driving users to Skyscanner is easy as they provide useful travel content in their newsletters. Based on your performance, Skyscanner pays flexible commissions through Impact.
Skyscanner widgets and Flights API help you create a powerful travel affiliate site.
🤑 Commission Rate: 20% – 50% Per Sale
⏳ Cookie Duration: 30 Days
Kajabi
Kajabi is a unique affiliate program with different tiers. The more referrals you make, the closer you get to the next partner tier. When you level up, you receive exciting rewards.
Commissions are paid every 25th of each month for a monthly subscription. For annual plans, the commission is paid annually.
With Kajabi, you start as a newbie and go higher to become an affiliate Legend.
🤑 Commission Rate: 30% Recurring
⏳ Cookie Duration: 30 Days
High-Paying WordPress Affiliate Programs
MyThemeShop
I simply love MyThemeShop products including its WordPress themes and plugins. RankMathPro is the latest addition and works better than YoastSEO.
MyThemeShop affiliate program offers a plethora of themes and plugins to promote. Schema is the best WordPress theme for bloggers.
🤑 Commission Rate: 55% per sale
⏳ Cookie Duration: 60 Days
Things To Consider When Choosing an Affiliate Product From High-Paying Affiliate Sites
Know what your audience loves the most.
Figure out the pros and cons of the product as the quality of the product will decide your sales.
Choose a product with more cookie days. This is helpful so that if a visitor comes back for the purchase, the sale is counted in your account.
High-paying affiliate programs are not easy to promote. Before applying for these affiliate programs, build your brand value.
Know your target audience and segment them.
Join affiliate networks like Impact and CJ Affiliate. These networks have a plethora of affiliate programs.
By joining affiliate networks, you get a dashboard to monitor your performance by brand.
Pick out a niche of high-paying affiliate programs and then promote them.
In this post, I have segregated high-paying affiliate programs based on their niche. So, you can easily pick the best high-paying affiliate offers that suit your audience and passion.
Why Choose High-Paying Affiliate Programs?
Financial Freedom:
Affiliate marketing can be a huge success for you if you dedicate yourself. It gives you financial freedom as nobody is your boss. It's just you!
Money-making machine:
Many affiliates start affiliate marketing as a sidekick. As they learn and grow their knowledge, affiliate marketing becomes bread and butter to them. You as an affiliate can make serious money. Bloggers make most of their earnings with affiliate marketing
No coding required:
The best way to start affiliate marketing is by launching your website. The best way to launch a website is by using CMS platforms like WordPress. WordPress blogs are easy to maintain and customize. If you need reliable, secure, and fast WordPress hosting, then I recommend BlueHost.
Evergreen Niches:
There are plenty of affiliate marketing programs in evergreen niches. This includes sports, health & wellness, web hosting, etc. The most trending affiliate marketing niche is cryptocurrencies.
Conclusion: Are High-Paying Affiliate Programs Worth Joining?
With these astounding affiliate programs, there's no stopping you. High-paying affiliate programs are available in different niches. It all depends on which niche you want to choose.
Niches like web hosting are evergreen as everyone needs a website.
With the Blockchain industry proliferating, high-paying cryptocurrency affiliate programs are also a good option.
With this, I would like to conclude my thoughts on the best high-paying affiliate programs with high commissions.
Till then…
Be Healthy, Be Wise, and Keep Sharing!
Take Care Reborns